Case of the Hungry Stranger, The
Written by Crosby Bonsall
Illustrated by Crosby Bonsall
Reviewed by Johnathon R. (age 8)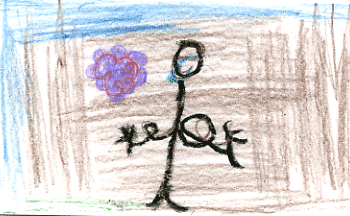 This story is about four boys who belonged to a clubhouse called the The Wizard Private Eyes. Their names were Wizard, Tubby, Skinny, and Snitch. Mrs. Meech, the boys' neighbor, asked them to investigate who ate her blueberry pies. The boys looked for clues to find the missing pies. The first clue was Skinny's footprint. The second clue was Tubby's cookie crumbs. The third clue was checking for blueberry stains on the mailman's teeth. A dog ran up to Wizard and smiled with blue teeth. The case was closed. The dog was the pie eater.
My favorite part is when Tubby falls into the cellar because it's funny. My favorite character is Skinny because he tells on everyone. His name should have been Snitch. This story relates to my life because I helped my mom find her missing keys.
This story has a lot of pictures that help tell the story. I think others should read this story because I thought it was interesting and it teaches you how to be a detective.