Invisible in the Third Grade
Written by Margery Cuyler
Illustrated by Mirko Gabler
Reviewed by Haylee Y. (age 9)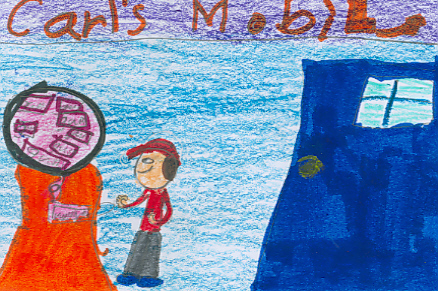 There is this ten year old boy named Alex. He has a craving for bubble gum. When he goes to get his favorite gum, he just rips it right open and he stuffs it right in his mouth. Then he walks out of the store he gasped, "I can't see my feet." Then he knew he was invisible! Find out what silly adventures this invisible boy goes on!
I enjoyed this book because the author used really good descriptive words. For example, Alex said oatmeal and sliced bananas taste like wet paper and slimy slugs. Descriptions like that make you want to read lots more. The cover illustration had a good picture, and it caught my attention. The other pictures in the book made me laugh out loud! My favorite part was when he was tricking his baby sitter. When he got home he held up a pumpkin and the babysitter came out screaming, "Floating pumpkin!" This book reminds me of another book, Things Not Seen, by Andrew Clements. They are both stories about kids who turn invisible and have funny adventures.
I recommend this book to people that like invisible books and to second graders because they might like to prank people.