An Angel for Solemon Singer
Written by Cinthia Rylant
Illustrated by Peter Catalanotto
Reviewed by Kerry H. (age 9)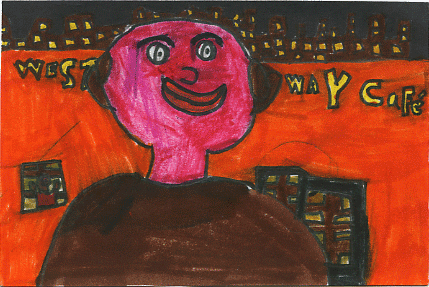 An Angel for Solemon Singer is a good book if you like happy stories. This book is about a poor guy who lives in an apartment and goes to a café where all your wishes come true. The waiter at the café was so nice Solemon came back every day. And each day he made a new wish. One day he wished for purple walls in his apartment. Another day he wanted to become rich. Read the book to find out more about Solemon's wishes and if they come true.
My favorite part is when Solemon Singer makes wishes to himself every time he orders food. My favorite character is Solemon Singer because he is so nice! I think this book is cool because it is different from all the books I have read because they use good word choices. I think Solemon Singer is like me in a way because we both think wishes come true.
I recommend this book to people who like happy endings and happy parts also all through the story. I like the drawings because it looks like a lot is happening in one picture. I think if you like big colorful drawings you would like these pictures. If you like nice and happy stories pick this one out!