Ersatz Elevator
Written by Lemony Snicket
Reviewed by student in Mr. Duff's 4th Grade Class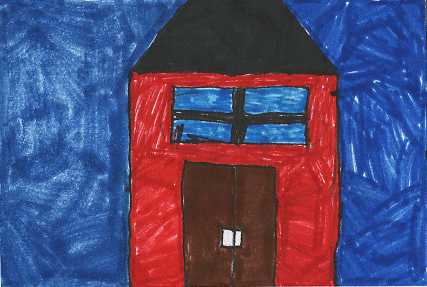 This book is about the 3 Baudelaire orphans whose parents died in a fire that burned down their enormous mansion. The orphans move from house to house trying to avoid evil Count Olaf. Count Olaf has been trying to steal the huge fortune the Baudelaire parents have left for Violet, on of the orphans, when she comes of age. At 14 Violet is the oldest Baudelaire. The Baudelaire's move in to a 48 or 84 stories penthouse apartment on 667 Dark Ave. Everybody on the block follows what's in, and what's out. For instance, at the beginning of the book aqueous martinis were in but later in the book there are out and parsley soda was in. With their new mom Esme, their new dad Jerome the Baudelaire's set out for their 71 bedroom penthouse adventure!
My favorite character is Violet. I like her because she has a knack for inventing things. I find her interesting because whenever she is thinking about an invention, she ties her hair up into a ribbon. One of the best inventions Violet made was a super long rope made out of extension cords, ties, and curtains. She tied all of them together with a Devil's tongue knot. One of my favorite parts of The Ersatz Elevator is when the 3 Baudelaire's and their new dad Jerome go to Café Salmonella. Whatever they order has salmon in it, even the water had little chunks of frozen salmon floating in it. The worst part of all is that all of the waiters had the same salmon suit on. The Ersatz Elevator is part of a series called A Series of Unfortunate Events. It is similar to the other books in the series because in every book Count Olaf is in disguise (except for the first book) and is always lurking near the Baudelaire's. They're different because in each book there is a different guardian. My sister Hannah reminds me of Klaus the middle Baudelaire who is 12 years old. Klaus reminds me of my sister because Klaus LOVES to read and so does my sister Hannah.
I would recommend this book because it is a thrilling adventurous story. If you would like to find out an evil villains secret plan, then I think that you will enjoy this book. Personally, I think that Lemony Snicket is an amazing author, and that he explains everything in great detail.