A Series of Unfortunate Events - The Wide Window
Written by Lemony Snicket
Illustrated by no one
Reviewed by Kendra D. (age 9)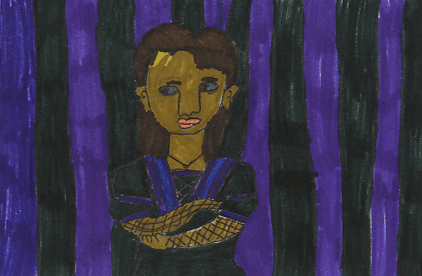 If you are thinking of reading the Series of Unfortunat Events and you are thinking that it?s going to have a happy ending well it doesn?t. The Baudelair children, Viola, Klaus and Sunny, have very nice lives until you begin to read this story. This book is about three children who became orphans after a house fire in which their parents died. The first house that Violet, Klaus and Sunny went to was their Uncle Count Olaf?s house. Count Olaf is one of the evil relatives who are going after the money left by their parents. Next the three children go to the reptile uncle who has something unfortunate happen to him. So, the three children have to go to their lovely Aunt Josephine?s house. Now this aunt doesn?t care about anything but grammar. She hates answering the phone, doesn?t use the door knob, and doesn?t even think about cooking food. Eventually she disappears. The Baudelaires have interesting but odd lives.
One thing I liked about this book was that it had a mystery so you never want to put the book down. What I don?t like about this book is that when in a middle of a sentence the author Lemony Snicket would make comments that distract the reader from what?s going on in the book and pretty soon it gets annoying. My favorite part in the book is every time Sunny says something funny it makes me laugh because she is the funniest kid in the book. The one thing I think that is special about this book is all of the Baudelaires have a special talent. Violet loves to make inventions, Klaus loves to read and Sunny likes to bite stuff. I don?t think that this book is like any other book because The Wide Window is spooky and funny at the same time and not a lot of books that I have read are like that because I mostly pick books that are calm and funny.
I would defiantly recommend this book to people who like spooky and funny stories. I liked how this book takes me off to wonderland. I just wanted to keep on reading it.