Winter Camp
Written by Kirkpatrick Hill
Illustrated by none
Reviewed by Nat M. (age 10)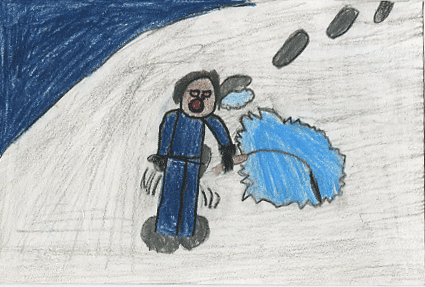 Winter camp is about Toughboy, Sister and Natasha going to winter camp for the season. Toughboy and Sister are Native American siblings and Natasha is the shaman woman of the village. Winter camp is where the characters go for the winter and do work for their tribe such as fishing and hunting. While they're there they run into a lot of exciting adventures. Such as a careless pilot who flies them there, yet forgets to take half of his passengers home. Toughboy, sister, and Natasha run into a bear. Not something they wanted to do!
I think the book in general is alright. It wasn't as good as the first one, Toughboy and Sister. The reason is because it wasn't as exciting or action packed as the first one. In the first book, the kids didn't have Natasha to help them so they had more challenges to overcome. However, in the second book Toughboy became a bit more independent because he's getting older and becoming a teenager. I liked learning about him growing up. I also realized this book did make me think a bit more of how it would be if I were a Native American.
I recommend this book for people who like action and for people who like sad books too. Also you might understand this book a bit better if you read the first one in the series. In all, I thought the book was alright, but it wasn't as good as the first one. I think the first book was a lot more action packed and a lot more depressing. The book was alright but I wouldn't recommend it highly.