The Zebra Wall
Written by Kevin Henkes
Illustrated by none
Reviewed by Katy S. (age 10)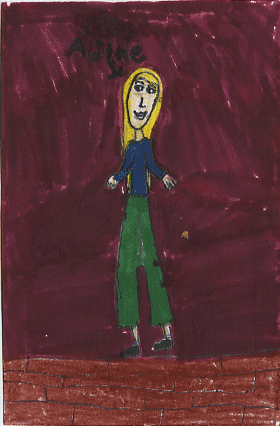 The Zebra Wall was a good book about a girl named Adine and her busy family. Adine and her sisters had names that started with the first letters of the alphabet. For example: Adine for A, Bernice for B, Carla for C, Dot for D, and Effie for E. Since there were 5 girls already, it was only natural that the next baby would be a girl, and her name would start with F.
One of my favorite parts in the story was when Aunt Irene (after their mother went to the hospital to give birth) got off the phone and said to Adine and her sisters, "Well girls, I have some good news, some bad news, and a surprise." Read the book to find out what the news might be. The character that I think changed in this story was Aunt Irene. Aunt Irene seemed bossy to Adine until Aunt Irene does something special that changes the way Adine feels towards her. The character that I liked most was Adine, because she learns to get along with a family member. The book was special because it makes you feel like it's really happening, and you aren't just reading a book.
I really recommend this book to people who like popping into another person's mind for a while, and for people who like reading stories about families. I like this book because I get to pop into Adine's mind for a while, and live in her busy house for a while.