Chasing Redbird
Written by Sharon Creech
Illustrated by Marc Burckhardt
Reviewed by Miranda P. (age 10)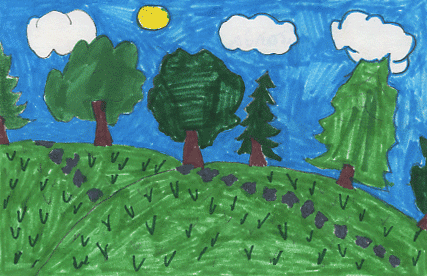 Zinnia (Zinny) Taylor is an ordinary 13 year old girl who is just getting over her Aunt Jessie's death. When she uncovers an old and lost trail, she knows that looking for this trail is her new summer project. Working on the lost trail gave Zinny a place all to herself. On the trail she finds answers to her questions about recent events.
A few of the big ideas of this story are that no one is perfect and that things take time. A lesson in this story is that sometimes when someone is grieving they start to notice more of what is around them. I liked this book because it is a book that never gets boring because of all the different things that are going on in the story. It gave me a mixture of feelings because it was sad in some places and scary in a few small places. It was also happy in places. My favorite parts were when she was on the trail just thinking about life. I like those parts of the book because I like to be by myself and think like she does. I liked the Character Zinny because she is adventurous and ambitious. She is like me because we are both ambitious and we like nature and being alone. One thing that is special about this book is that it is sort of eerie and those parts are almost always about Aunt Jessie. Another thing that is special is that it is so much like real life that I can picture myself in her position very easily. This book is like other books by Sharon Creech because it is about a girl with an interesting family and an adventure awaiting her. Chasing Redbird is not part of a series but it tells the full story in the book.
I definitely recommend this book to kids ages eight and up. I also recommend this book because it is very well written and detailed too. This book may be more interesting to girls because it is about a girl but boys may like it too. A reader who likes first person narrative books will like this book. Many people will like the characters because they are like normal people; they make mistakes that can be made in real life. This is a fiction book and it does not take place in a real county. Chasing Redbird is a very interesting and well-written book.