The Wanderer
Written by Sharon Creech
Reviewed by Malia M. (age 9)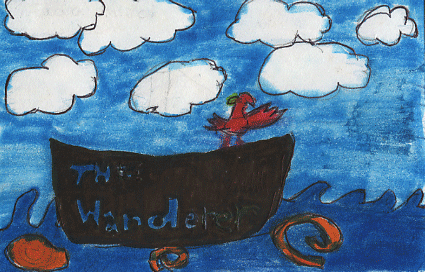 The Wanderer is about a girl named Sophie, her cousin Cody, and their adventures with their other cousin Brian, and their uncles Mo, Stew, and Dock. During summer break, Mo, Stew, and Dock take Brian, Sophie, and Cody around the world on Uncle Dock's ship, The Wanderer. They are going to England to see the kids' grandfather Bompie. On the trip, they encounter amazing things and try to uncover a secret from Sophie's past. The chapters of this book are made up of the sailing logs (boat diaries) of Sophie and Cody.
I think this book is amazing. When the author describes even the funniest of situations, you almost feel as if you're in the book experiencing the things that they are. One of my favorite characters was Cody. He has a big sense of humor. The only illustrations in this book are at the beginnings of chapters. They are very unique because they blend together different things such as environments. There is not one constant theme for the pictures (like boats) the whole book. There are stories that the sailors tell about their grandfather. I think they are told as a sort of lesson.
I would deffinently recommend this book. It is exciting and funny. I think people of any age would like this book. Parents and kids can read it together for a bedtime story and older kids can read it on their own in bed. The Wanderer is an excellent book that everyone (parents included!) can enjoy.