The Secrets of Droon
Written by Tony Abbott
Illustrated by Tim Jessell
Reviewed by Malia M. (age 9)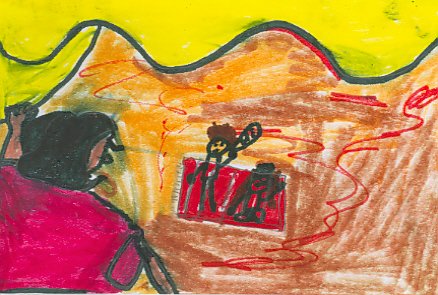 This book is about three kids. There's one girl and two boys. Their names are Eric, Julie, and Neal. They're all best friends. They were all playing outside until they felt like they wanted to go inside Eric's house and go inside his basement. They looked all around until they saw an old shirt hanger. So they went over to it and pushed it aside to see what was behind it. They saw doors. They opened the doors. Below them in front of their feet they saw rainbow stairs and below the rainbow stairs they saw a desert with little dots. They didn't know what the little dots where. So they went down the rainbow stairs. Then they saw something very familiar. It was a tent. That's where their adventures begin.
I really liked this book because I like adventures. The three children go on magical adventures like the ones I dream of having myself. I would love to find an invisible gate that would lead to a magical realm. Julie was my favorite character because whenever she tried to figure something out, she would bite her lip. I do that too. She likes to play soccer too, just like me. We have a lot in common. My favorite part of the book was when they found the magical rainbow stairs. They knew they had to be magic, and when they went down the stairs and reached the bottom, the stairs disappeared in the mist. Reading that part told me that the rest of the book would be magical.
I recommend this book to anyone who likes adventures and I think even grown-ups would like it too. You're never too old to have an adventure.