Where I'd Like to Be
Written by Frances O'Roark Dowell
Illustrated by Russel Gordon
Reviewed by Dana S. (age 11)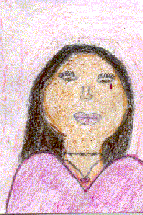 Maddie, a 12 year old girl, barely survived when she was an infant. Struggling to breath a ghost saved her life. While she was in her crib, less than 1 year old, a blanket wrapped around her neck. Suddenly she started to turn blue. At the time she lived with her Granny Lane. As fast as a lightening bolt, a ghost untangled her letting her survive. When Maddie feels down she should remember that she is special. She was saved. But, it?s hard to feel special when you go from one foster home to another and never have a place to call home. Maybe, just maybe she will?
While at the home, Maddie tags along with a group of kids. Together they can do anything. Even make a house? Well, more like a fort. Most people think wood and nails can?t do anything much, but this group of kids has better and bigger ideas. There are several lessons to learn from reading this book.
My favorite character was Murphy. She told everyone at the beginning that she never told anyone her real name. In the story you find a surprise ending to her, that you wouldn?t expect. During the book she acts real rich as if she has all the money in the world and almost all of her stuff is nice, not the kind of stuff a kid at the Home would have. She is the best character, I think. But she changes in many ways! As I read the book, ?Where I?d Like to Be,? it made me almost burst out with tears at the end. The book is so jolly that you would never expect the ending. The ending will make your heart feel shattered and everything is gone, except for what happens to Maddie! This book is not part of a series, but if it were, I would definitely read it. The author also wrote another book called Dovey Coe. What I?ve heard is that is an excellent book. If this author writes a new book for a series, I?m sure I will have them all!
I really recommend this book because it tells you the most important thing; you are special no matter who you are. I think girls mostly would like this book if they were between 10-15 years old.