Mark McGuire
Written by Bruce Weber
Illustrated by Thomas La Padula
Reviewed by Cole D. (age 10)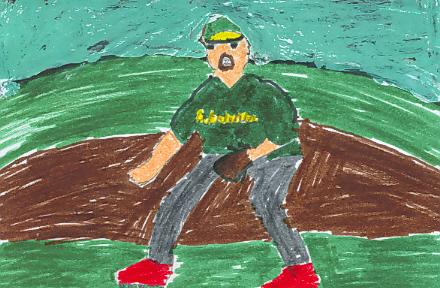 This story is about an incredible man named Mark McGwire. Mark grew up playing lots of sports. For example, Mark played soccer, baseball, and basketball. But Mark decided to stick with baseball. Besides, he could crush the ball and he could pitch. When Mark finished high school, he got drafted to play with the pros. But Mark and his parents decided he should finish college first. After Mark finished college, the Oakland Athletics were waiting for him. When Mark heard of the home run record of Roger Meris and Babe Ruth, he decided to try to break the record.
I like this book because it tells about Mark McGwire's life and important events that happen to him. This book uses both illustrations that are watercolors and photographs of real games. My favorite pictures are of Roger Meris, Sammy Sosa, and Mark McGwire. My favorite part is when Mark hits his farthest home run, five hundred forty five feet. I think I am similar to Mark because he likes different sports than just baseball. Also, like Mark McGwire I am a dedicated ball player.
I recommend this book to kids who like baseball, and are fans of Mark McGwire. This book could inspire kids to grow up like and play hard like Mark.