The Call of the Wild
Written by Jack London
Reviewed by Daniel O. (age 12)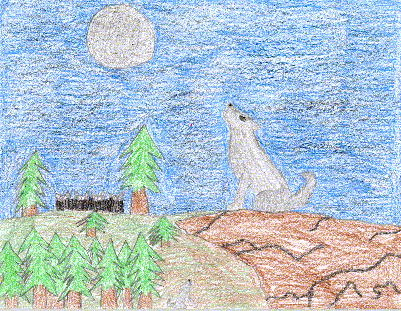 This is about a dog named Buck who is stolen and sent to the north to become a sled dog. He has to learn to become cunning and fierce to survive with his other fellow dogs. He will become the strongest and best sled dog. But the wolf inside him struggles to get out. Will Buck answer ?the call of the wild??
This is a fantastic book. I liked it because it told about the struggle that Buck went through. It was so cool to read about how Buck and his fellow dogs survived in the cold. My favorite part was when Buck ran with his brothers and he became the leader and how he became the ghost dog. My favorite character was Buck because no matter what happened to him he found a way out. He would never give up if he wanted something he wouldn't stop until he got it. Buck changed a lot in the story. He started out a regular dog in California and became a fierce dog of the wild. He became the leader of a wolf pack.
I recommend this book because it?s a very entertaining book. I liked it and I think other people will like it too. On every page you want to know what's going to happen to Buck next. I think all people can read this book. It doesn't matter what age you are. You might like how Buck survives through his rough times or how he never gives up. You just might like dogs and want to see how a regular old dog becomes a dog in the wild.