Earrings!
Written by Judith Viorst
Illustrated by Nola Langner Malone
Reviewed by Natalie O. (age 11)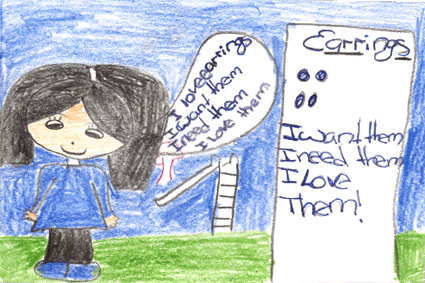 The book named Earrings is about a girl that wants a pair of earrings very badly! She loves them so much that she'll do anything for them. She says that she'll clean up her room, read a book once a week and be nice to her litter brother for a week. Then she says that she'll take care of her little brother for 6 months instead! I liked this book because it makes me laugh. I liked the part when she always says? "I want them, I need them, and I've got to have them. My mom and dad won't let me have them. Earrings, beautiful earrings for pierced ears."
I like this book because it's funny and I think it will make you laugh a little too! The illustrator of this book is a very good artist. The pictures make me want to read more and to read the book again! I learned a lesson from this book. It is not to ask and beg a lot. That way the person who you wish could buy what you want will do it! This book reminds me of myself when I wanted to have some earrings and my parent's always say NO!!!! I recommend this book to the people who want EARRINGS very bad. (Just wait until you are big and then your parents will know when to give them to you)!