Birthday Pony
Written by Jessie Haas
Illustrated by Margot Apple
Reviewed by Jenny L. (age 8)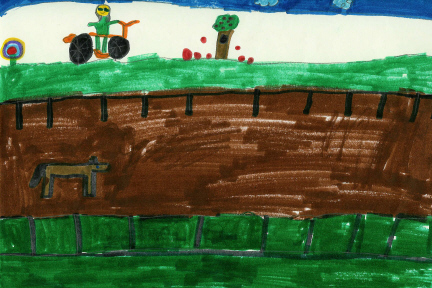 I read the Birthday Pony. A girl named Jane knows how to ride a horse. She sees lots of pictures of her grandmother riding one old horse named Sweet Pie. One day a girl from her family, Kathleen, took lessons with a boy horse named Popcorn. One day on her nineth birthday she got a new bike. She felt happy about it because she could race Popcorn with it. She still took care of Popcorn.
My favorite part was when her father took Popcorn away because she was spending more time with her bike than with Popcorn.
I liked Radish, Jane, Popcorn, Sweet Pie, Kathleen and Grandma Aggie because they are in most of the story.
I liked the illustrations of Kathleen going fast because it is a little bit funny. Kathleen was trying to go fast but her teacher was trying to stop Kathleen and Popcorn.
I think that kids would read Birthday Pony because it's fun to read and there's pony's I love.