Rumpelstiltskin
Written by The Brothers Grimm
Illustrated by Dennis Hockeman
Reviewed by Zora V-T (age 8)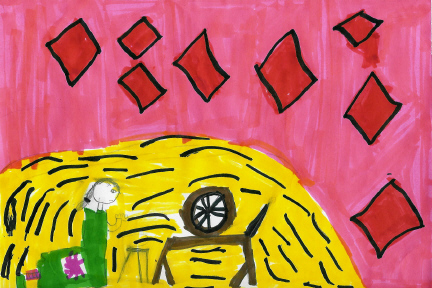 The story was about a poor miller's daughter who had to spin straw into gold, but didn't know how to. She was very scared and cried. Then she got some special help from an interesting character. Read the book to find out if she can spin the gold!
My favorite part was when the miller's daughter guessed Rumplestiltskin's name. I like that part because he did not get to keep her child.
I felt happy when I read the book because I like when the miller's daughter got to marry the king. She deserved to be happy.
This book has a lot of illustrations. They are very colorful and detailed. I liked the picture of the palace the best because it reminded me of jewels and I like jewels.
I recommend this book to K-3rd graders. I hope they like it.