The Indian in the Cupboard
Written by Lynne Reid Banks
Illustrated by Brok Cole
Reviewed by Zach E. (age 9)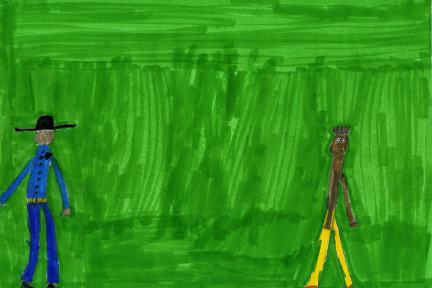 This book is about a kid named Omri who gets a toy Indian from his friend. He put the Indian in a cupboard. Omri locked the cupboard and went to bed. In the morning Omri heard a noise from the cupboard. Omri opened the cupboard and found a real live Indian about three inches tall that jumped out and stabbed Omri on the finger. How did the Indian become real? Read this book to find out!
If you like this book, the second one, The Return of the Indian and the third one, The Secret of the Indian, would be good books to read. They all have excitement and adventure. This book is like the rest in the series because it has the same characters, Omri, Little Bear, Patrick and Omri's brothers.
When I read this book I felt good. I like this book because it has adventure, humor, excitement, and very good details.
My favorite character is Little Bear because he is always giving commands for Omri to do. One command is when he asks for a wife.
I think you should read this book if you like adventure because it has humor and is full of adventure. Something is always going on. I think kids in 3rd through 6th grade will like this book.