Fluffy's 100th Day at School
Written by Kate McMullan
Illustrated by Mavis Smith
Reviewed by Ethan B. (age 7)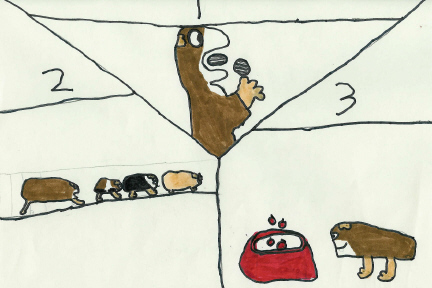 The class put Fluffy and three other guinea pigs in his playyard for a seed eating contest. All the guinea pigs did not know it was a contest. When the seeds were gone Fluffy won. The class put the guinea pigs in a race. This time they knew. Fluffy is in last place. The other guinea pigs went out so Fluffy won. The class put the other guinea pigs in their own classroom. Fluffy's class had 100 cherries, one was missing. They found out Fluffy ate it.
My favorite part was when he won the race because he was in last place and he won.
The book is like Fluffy's School Bus Adventure because they have the same characters.
I liked it because there were games for the guinea pigs.
I recommend this book to other people because it is about a guinea pig. I think kids ages 6-8 would like it.