My Louisiana Sky
Written by Kimberly Holt
Reviewed by Brenna H. (age 12)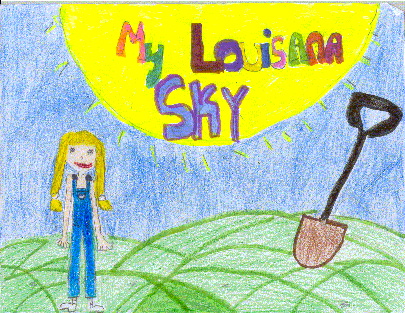 My Louisiana Sky is about a girl named Tiger living out in Louisiana on a farm, with her two slow parents and her Grandma who is the only one who takes care of her, the house, and everybody else in the family. Tiger is big tomboy. Tiger soon wants to grow out of being a tomboy, and have girls like Abby Lynn as her friends. Struggles come and leave, while her Grandma becomes very old. Her aunt Dorie Kay comes to help out and gives gifts even though her mother is the one that dies. Aunt Dorie Kay gives Tiger a chance to live with her as a normal kid in Baton Rouge. Read this book, and find out if Tiger goes to Baton Rouge or refuses. This story is so exciting, because you really get into it. You?re wondering what is going to happen next. The lesson in this story is not to make fun of people, or don?t be ashamed of people if they are maybe a little different from you. I think the author lets you know it was hard for Tiger but you should never give up and not care what people think, and you?ll turn out okay like Tiger.
My favorite part was when Tiger got invited to her Aunt Dorie Kay?s, and got her haircut, and changed her name to her middle name Ann. The one character I found interesting was Tiger becasue she was most definitely a tomboy. I found her interesting because she doesn?t play as much we do. She was working on the farm, or in the garden. If she wasn?t she was playing Baseball. In the middle of the story Tiger changed because she stopped playing baseball, and started trying to hang out with Abby Lynn. There is one thing that is unique about the book is that her parents are slow. I have never read a book like this.
I loved the book. I could not stop reading it. I think girls that are Tiger?s age, which is 10-12, would like this book.