The Pot that Juan Built
Written by Nancy Andrew
Illustrated by David Diaz
Reviewed by Julian L (age 12)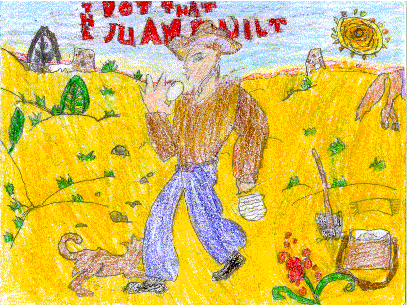 In this book Juan is a pot builder and a very good one at that. Juan became a professional pot builder in the 1970's. Before he was a pot builder he was a farm labor, a railroad hand, a sharecropper, and even a boxer. The book also includes brief poems of the steps that Juan does to make his pots. From my point of view it sounded like the author was interested in pot making or maybe the author was even a family member of Juan's because he knew so much about him.
This book was very interesting because I like the way the author shows the phases Juan goes through to make his pots. The illustrator did an awesome job because the illustrations in this book are very creative and colorful and the colors are blended well in each picture. This book is similar to another book I've read called Love That Dog because the poems in it talk about the life of the character.
I recommend this book to just about everyone. People who like unusual and creative stories will like this book. I think everyone will find the pictures in this book breathtaking.