Won't Know Till I Get There
Written by Walter Dean Myers
Illustrated by Jerry Pinkey
Reviewed by Dillon S. (age 12)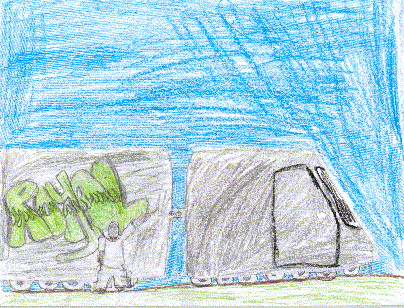 Won't Know Till I Get There is about a boy named Steven and his parents who decide to adopt a boy. The boy's name was Earl. He was a gangster with a criminal record which includes vandalism, and stealing. Steven decides to show Earl how tough he is by spray-painting the side of a subway car. For punishment they both began working in Micheax House of Elders. Steven and Earl become friends. The lesson in this book is don't judge people by the way someone looks or from a piece of paper.
My favorite part of the book is when the disguised cops asked what Earl was doing and he acts all proud of this graffiti art. He tells them something like this, "Yep that's us the royal Visigoths." The cop replied with, "Well, guess what we're undercover cops." In the end of the book things change because Earl becomes a great addition to the family. Earl is a pretty interesting kid. In his free time he unlaces and relaces his shoes and acts all bad. Steven is like me because he likes to have fun a lot and does the best he can in school. When I first started to read the book, I really felt sorry for Earl and all the things he had to go through when he was younger.
I highly recommend this fiction book if you like non-stop excitement! Students in grades 6 and 7 would enjoy this book because there is a lot of action throughout the story.