Gathering Blue
Written by Lois Lowry
Reviewed by Julie D. (age 10)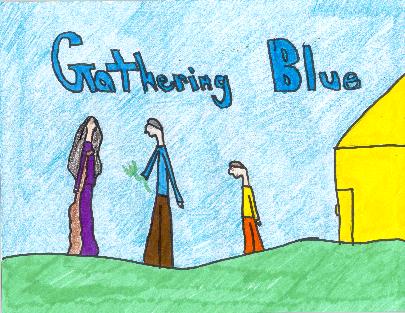 This book is about a girl named Kira who has a twisted leg. Her mother died of sickness, and people burned down her house. Everybody thinks Kira is useless, so they talk about sending her to the Field. Thankfully the Council of Guardians spared her. For a few months, Kira works on the Singer's robe. She also befriends a boy named Thomas. Before the Ceremony, Kira finds out that one of her friends, Matt, ran away. During the Ceremony, Matt comes back, and he also has a surprise. Read the book to find out what the surprise is.
I like this book because it has a lot of interesting features. One of those interesting features is my favorite part. My favorite part is when Matt gives his present to Kira. I found Kira interesting because she has a gift. When she sews, her hands sew what will happen in the future. When I read this book, I felt very interested in the story. And as I read it, I think about what will happen in the story. My favorite character is Kira because she is such a good person with good character traits.
If you like books with a lot of feeling, then I would recommend this book to you. Kira, Matt, and Thomas are what make this book good. This book has a lot of tension and heart. I would recommend this book for ages 9-18.