Journal of Patrick Seamus Flaherty, United States Marine Corps
Written by Ellen Emerson White
Reviewed by Trent G. (age 12)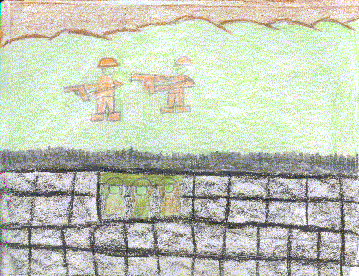 This book is for people who like the Army or Marines because it is about a guy who is in the Marines. He went to Vietnam for a war and he was there for three hundred and eighty-five days. Some men decided to go rescue him. They called for helicopters because it was a rainy day. It was foggy and cold. It was 6:45 in the morning. The guys who were trying to sneak up on the Americans were wearing bright colors. You will have to read this book to find out what happens to the Americans.
I liked the book a lot because I like the Marines and I want to be in the Marines when I grow up. My favorite part was when it said that Patrick got to go back to his home for Christmas with his family. I found something really cool about Patrick. I thought it was cool when Patrick shot a guy when he came to kill him. Patrick shot his leg off. This book reminds me of my Uncle Danny. I have always wanted to be like my Uncle Danny. He was in the Marines for four years. But I want to go longer.
I rate this book a ten because I want to be in the Marines. I recommend this book to everyone who likes the Army or Marines. I think that most boys of my age would enjoy the book because of the action and adventure.