Regular Guy
Written by Sarah Weeks
Illustrated by Michael Kodsch
Reviewed by Brianna M. (age 11)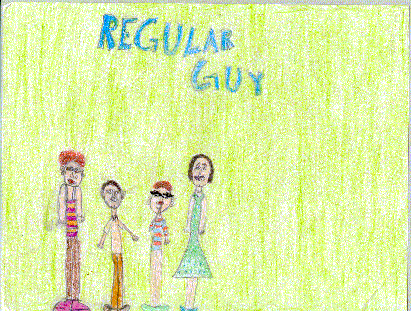 This is a great book about a guy name Guy. He thinks that his real parents are the weird boy named Robert's parents because Guy's parents act crazy but Robert's parents are normal. You will just have to read the book to see what happens to Guy.
I really liked this book because of some of the really funny parts, like when he finds out what it is that really stinks. I think that Guy and Robert, the main characters, changed by the end of the book because they realized some of the most important things come from inside. As I read the book, I felt concerned because what if it really happened and you get switched at birth. What would happen? This story reminds me of my own life because I don't think I really look like my parents, but who really knows.
I think any age person should read this book because it is very funny and it may remind you of your own life. I think if you like any type of comedy book, this would be a great choice for you. There are many great reasons why readers would love this book. For instance, at the end of the story you think one thing is going to happen, but it doesn't. Another reason is the humor throughout the book will keep you laughing constantly.