New York Minute
Written by Eliza Willard
Reviewed by Kelli B (age 10)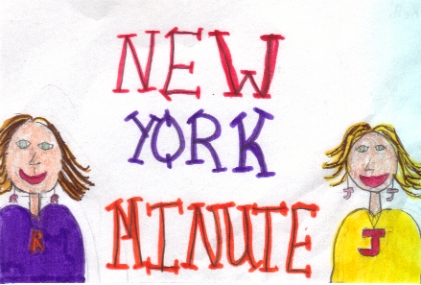 Do you know what can happen in a New York Minute? In this story two sisters find out. They like a lot of different things. Roxy likes to skip school, and Jane likes to go to school. Roxy likes dogs and playing in a band, but Jane doesn't. In this story Roxy skips school. Officer Lomax chases her all around town. Officer Lomax likes to catch kids that skip school, and make them go back. That is why he is after Roxy. He has been after her for years. Roxy skipped school because she wanted to do other stuff. Jane wasn't skipping school. She had a McGill Fellowship speech, to try to win a scholarship. When they were traveling around New York they had to face a lot of challenges. If you want to find out what they had to face and if Jane got the scholarship read the book.
In this book my favorite part is when they are on a train and Roxy doesn't have a ticket. When the conducter asks Roxy for her ticket, she doesn't have one. The conductor throws her off the train. Being Jane and Roxy are twins, the conductor thinks that Jane is Roxy and throws her off the train too.
My favorite characters were Jane and Roxy. I liked them because I liked how they fought through some of the challenges. I thought it was cool. I did because usually in their books they solve mysteries, but in this book they didn't. Instead of solving mysteries they had to fight a lot of people to get where they were going.
This book is part of a series. It is part of the Mary-Kate and Ashley series. It has some similar characters. The similar characters are Mary-Kate and Ashley. It is also similar because in a lot of the Mary-Kate and Ashley books they have a lot of adventures.
I recommend this book to people who like adventures and Mary-Kate and Ashley books. The problems that Jane and Roxy face in New York are adventures. One of them was when they got lost, they kept on asking for directions to find where they were going. Not many people told them the way. Even if you don't like Mary-Kate and Ashley books, I think you will like this one.