Harry and the Lady Next Door
Written by Gene Zion
Illustrated by Margaret blay Graham
Reviewed by Steven P. (age 8)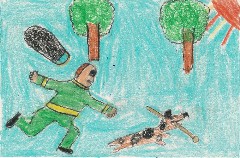 Harry and the Lady Next Door is about a dog that lives next door to a lady that loves to sing. Harry didn?t like the way the lady sang. It was too loud and high. He tries everything to make her singing softer. One time he even made the town marching band play in front of her house. It didn?t work. Finally, Harry made her win a singing contest by accident and they became friends forever.
My favorite part of the story is when Harry grabs the band leader?s stick and runs off with it because it is funny when he tries to keep the lady from singing. My favorite character is Harry because he is a very smart and funny dog. The story relates to my life because Harry is very curious about everything just like me. The story has pictures and helps explain the story.
I think everybody will like this book because it?s very funny.