Karen's Worst Day
Written by Ann M Martin
Illustrated by Susan Tang
Reviewed by Ashley A. (age 10)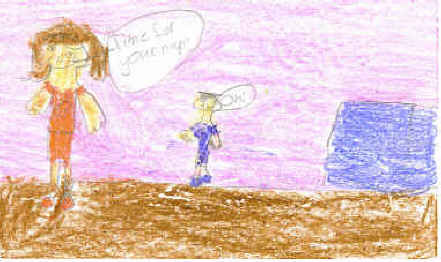 This story is about a girl who comes up with a great idea to start a baby sitter?s club. They all agreed to the suggestion. They would baby sit every day at 9:00. The Baby Sitter?s Club will give them a chance to have fun and make tons of money. Kristy is funny, nice, and does a lot for the club. Having a babysitter?s club isn?t easy, but Kristy and her friends aren?t going to give up until they get it right.
I liked this story because it was sad and funny. My favorite character is Kristy. I can relate to this story because my sister has been wanting to baby sit, but I?m the one babysitting her. I like this story because I like to baby sit my little sister. I also like the way the author describes the clothing that the characters are wearing. I also enjoyed they way it explained the way one of the girls changes in this story.
I recommend this book for someone with a lot of emotion. The author is very descriptive. You will be very interested in this book if you like to baby sit and want tips.