A Series of Unfortunate Events: The Grim Grotto
Written by Lemony Snicket
Reviewed by Hillary C. (age 12)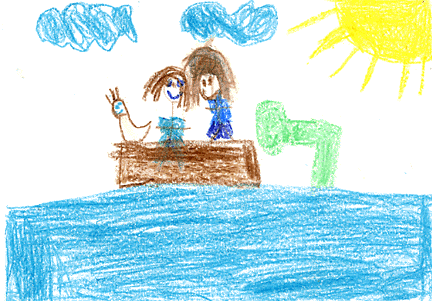 How would you feel if your parents died in a fire? The Grim Grotto is about 3 orphans named Violet, Klaus and Sunny. In this story, they are alone on a raft because they are always trying to get away from Count Olaf, their very evil uncle. The children have many adventures trying to escape from the clutches of Count Olaf. All Count Olaf wants is their enormous fortune.
I think Violet was very interesting because she is a great inventor. While the children were floating on the raft, they see something pop up in the water. This reminds me of the ocean and how frightening this would be. Klaus reminds me of myself because he loves to read and I love to read. This book is fascinating because Lemony Snicket writes in a strange but unique way. My favorite part of the story was when they bump into Count Olaf because Violet, Klaus and Sunny are always trying to get away from him. Do you think he ever gets the enormous fortune? You will need to read the story to find out.
I would recommend this book. So if you thought my review was great and you want to read the rest of the story, go to your nearest library or bookstore today!