Froggy Goes to School
Written by Jonathan London
Illustrated by Frank Remkiewicz
Reviewed by AutumnG (age 6)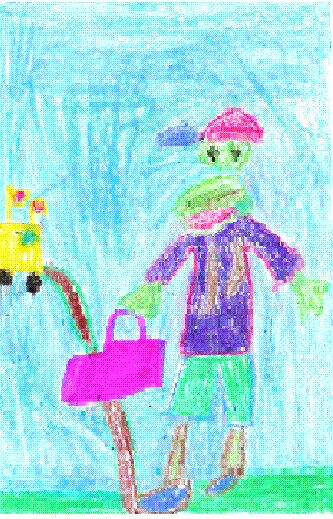 This book is about Froggy going to school in his underwear. He is actually dreaming so when he wakes up he goes to school dressed. He has a lot of fun on his first day.I learned not to shout in school or leave your things on the bus.
I liked this story because it made me laugh. My favorite part was when Froggy goes,"Bubble, bubble, toot, toot, chicken, airplane, soldier. I liked that because it was soooo funny! The characters I liked were Froggy, Froggy's teacher and Froggy's principal. I liked them because they looked funny.
I recommend this book to everyone because it was so funny! Thanks JordanD. You were a big help!
(This review was dictated to a 5th grade Reading Buddy.)