Bunnicula
Written by Deborah and James Howe
Illustrated by Alan Danieil
Reviewed by Diana K. (age 10)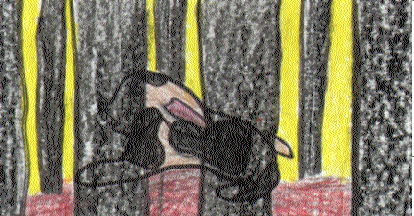 One evening, the Monroe family went to watch the "Dracula" movie. They came late, sneaked into the theater, and sat in one of the last rows. By accident, Toby Monroe sat on a baby rabbit. They took him home and named him Bunnicula- a cross between bunny and Dracula. After that, vegetables started turning white. Did it have anything to do with this little harmless rabbit's coming? The family's pet dog Harold and cat Chester will find out.
This book is part of a series. In each book Chester and Harold have to solve a mystery. The illustrator drew one black and white picture per chapter. Each picture had something to do with the name of the chapter, and the most important scene. My favorite part was when Toby's older brother Peter said,"Good night, stupid Harold. Good night, dumb Chester," and then Harold drooled on his leg.
I advise this book to people who like animals, humor, and mysteries. Also, anyone who likes to laugh about how pets see the world would like this because the book is written from the perspective of the dog.