Dinosaur Before dark
Written by Mary Pope Osborne
Reviewed by G.R. (age 8)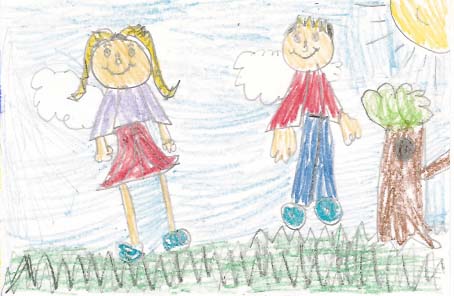 Dinosaur Before Dark by Sal Murdocca and Mary Pope Osborne is the best book ever. In the beginnig, Jack talked to Annie about how the world was different long ago. Then, Annie and Jack went back in time. Annie learned all about dinsouars. She learned how they are now extinct and only their fossils are left. She thought they were fun to look at. Jack and Annie were going to be late for dinner. They had to get home, but Jack left his backpack on the hill. Read Dinosaurs Before Dark to find out if Jack gets his backpack back, and if Jack and Annie get back for dinner.
Annie was an interesting character . She helped slove problems. She's smart and tells Jack things he doesn't know. She is very adventurous because she likes to visit a lot of places.
This book is very funny because it makes me laugh. There are really good characters and there great illustrations. My favorite part was when Jack flew on the pterarodon's back. It was very exciting. Being funny, exciting, and having good characters is a sign of a good book.
I recommend this book to kids who like mystery books. It is one of the best mystery books ever. I think kids of all ages should be able to read this book and learn from it. It's like study cards on the go.