Arthur's Computer Disaster
Written by Marc Brown
Illustrated by Marc Brown
Reviewed by Cristal L. (age 10)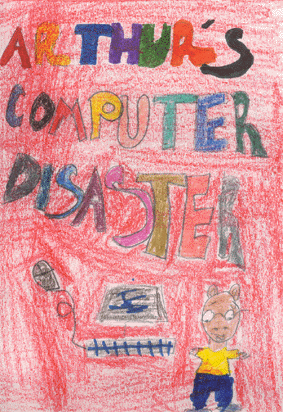 This story is about a boy named Arthur. This boy damaged his mom's computer after his mother told him not to use the computer. His friend Buster came to his house and they started playing with the computer and that is how the whole trouble started. D.W., Arthur's sister, thought that her mother was going to lose her job because of Arthur. D.W. got worried they would have to live in the street. Then Arthur's mother came home for dinner. "Oh! Oh! I am in trouble." said Arthur. "Big trouble !" said D.W. If you want to know what happend to Arthur then read his book.
My favorite part of the story was when D.W. said, "you killed it! you killed the computer". My favorite character wasD.W. because she is very funny. I think the illustrations were very good. This book is just as funny as all the other Marc Brown books. When I read this book I thought I was Arthur because something like this happened to me.
I think other people who like Arthur books would like to read the book because it is nice and funny. I want to recommend this book to everyone.