The Whipping Boy
Written by Sid Fleischman
Illustrated by Peter Sis
Reviewed by Sabrina V (age 10)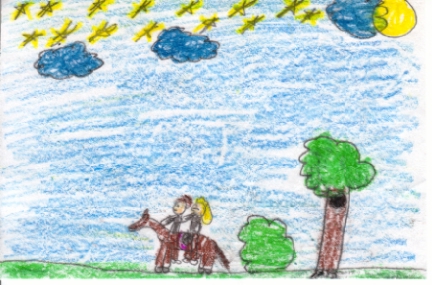 This is a story about The Whipping Boy. The king picked one boy off the streets to be the whipping boy since the heir to the throne can't be whipped or thrashed. His real name is Jemmy, and he is the whipping boy for Prince Brat. When Prince Brat acted badly, Jemmy would be whipped.
The book starts off with the king holding a ball. Prince Brat tied all of the lords' and ladies' wigs to the back of their oak chairs. When they stood up, their wigs came flying off. Prince Brat laughed out loud. The king was furious. He gave a very, very mad shout. He said ?"etch The Whipping Boy." The king said , "Whack him 20 times." So they did. He yelled and cried. After Jemmy received his twenty whacks, the prince had his little talk with him. The prince should have been taught how to write, but he said someone could do it for him. So the whipping boy had to learn how to write.
One night the prince wanted to run away. He got Jemmy and said we're going to run away. Jemmy was afraid of the dark. The prince said, "We'll take a lantern." Jemmy didn't want to go, but he had to go with the prince because the prince commanded him . They meet Hold-Your-Nose-Billy and Cutwater on the way and they weren't nice at all. Hold-Your-Nose-Billy is really, really big and Cutwater is really, really skinny. They also meet a woman looking for a bear. She belongs to the circus. They go back to the circus. Hold-Your-Nose-Billy is looking for them. He finds them in the sewer. If you want to see if they get away from Hold-Your-Nose Billy and Cutwater, read the book. You also can read the book to find out more about their adventures.
My favorite part is when they run away because they have to go in the dark. I think it is funny that the whipping boy is afraid of the dark. Prince Brat changes at the end. He wants to live in the sewer and not go back to the castle. Jemmy said "You would be a fool to live in the sewer". I like it because it makes me feel good. It makes me wonder what is going to happen next.
I recommend this book to any one who likes stories about adventures that teach a lesson. If you enjoy reading about how people can change their lives for the better, this is a book for you. I enjoyed it and I am sure you will too. I recommend it for all ages.