Hey, Al
Written by Arthur Yorinks
Illustrated by Richard Egielski
Reviewed by John M. (age 11)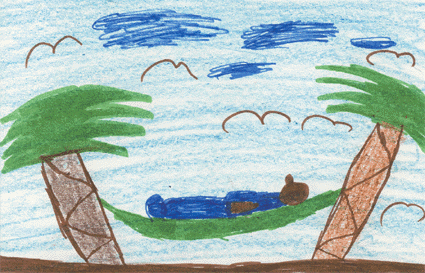 This book is about a man named Al. He is a Janitor in a one room house. He struggles through his life. One day while he was shaving a giant bird flew to his window and said "Al, you are working too hard. Why don't you come with me tomorrow?" So Al listened to the bird and the next day the bird took Al and his dog to a giant floating island. They drank, they played, they ate and they swam. The days passed really fast while their old memories started to fade. One day Al and his dog grew feathers and Al said take us back, take us back home! I don't want to be a bird!" Al flapped his wings and flew away. While he was flying Eddy his dog fell down to the sea and he was lost. You'll have to find out what happens next yourself by reading the book.
I think that this book is good because it teaches a big lesson and I like this book because it is very interesting. This book teaches that some times good things are bad. My favorite part is when Al and his dog grow feathers and start flapping their wings. I liked the birds because they have colorful feathers. I think that the illustrations are very nice because they are very colorful. I think this story is very special and not like any other book because it has a lot of imagination. When I am reading this book I feel like Al.
I think other people who like stories like this one would like to read this story because it is very interesting. I think that any person would like to read my story because it is very nice.