From the Mixed Up Files of Mrs. Basil E. Frankweiler
Written by E.L. Konigsburg
Reviewed by Benjamin W. (age 10)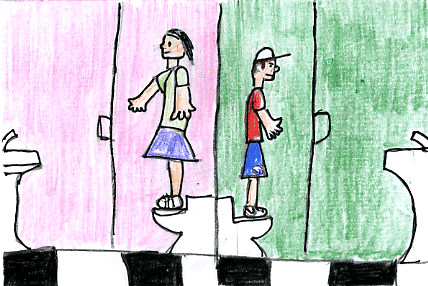 In the beginning of From the Mixed-up Files of Mrs. Basil E. Frankweiler, Claudia wanted to run away to a museum in New York because she had to do chores. She picked her younger brother to go with her on this adventure. They both escape from home to go to live in the Metropolitan Museum of Art. At the museum, they see a statue that was supposedly made by Michelangelo. The statue was called Angel. Claudia wanted to find out if the statue was really made by Michelangelo, so she and Jamie went to Mrs. Basil E. Frankweiler's house. She is the one who sold the statue to the museum. If you want to find out if Michelangelo made the statue, read the book.
E.L. Konigsburg had a creative idea for this story. Having kids run away to the museum was a different idea. I think Claudia and Jamie were both very smart. They figured out how to live and hide in the museum and they figured out the secret of the statue. I like the parts where Claudia and Jamie started arguing because it seemed very real. It reminded me of when I fight with my sister. I didn't like the illustrations in this book because it looks like the pictures are smeared.
I would recommend this book to kids who like mysteries or kids who would like to learn more about art, the Metropolitan Museum of Art or New York City.