All American Girl
Written by Meg Cabot
Reviewed by Hope W. (age 12)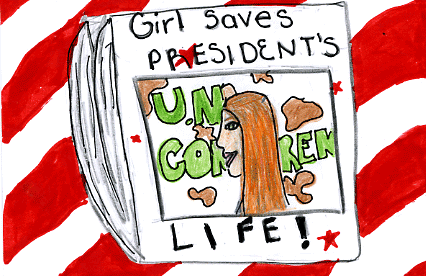 Samantha Madison is an outsider. She dresses all in black because she mourns the loss of the art supplies at her school. She is in love with her older sister's boyfriend and the enemy of Kris Parks (the most popular girl at school). After saving the president's life, Samantha's world turns upside down. She is now the most popular girl in the USA and appointed Teen Ambassador for the UN. And the president's son just might be in love with her. Samantha learns a lot about life, love and common sense - but does SHE love the president's son?
I really enjoyed this book. It was very funny and genuine. Samantha was funny because of her attitude and her "protests" like wearing all black. This book was very well-written. It goes into great depth about how we look at things in life and has great characterization. Samantha changed and grew in the book. By the end, she looked at art and love very differently. I felt this book was easy to relate to because it isn't perfect like a Cinderella story. It describes how life really is and is a very positive story.
I recommend this book because it has a positive story line. Lots of teenage girls would like this book because it is humorous but realistic. The plot would hold the interest of readers because it makes you laugh and think. I would also recommend this book to anyone who liked reading The Princess Diaries because it is by the same author.