Rattletrap Car
Written by Phyllis Root
Illustrated by Jill Barton
Reviewed by Jessica M. (age 5)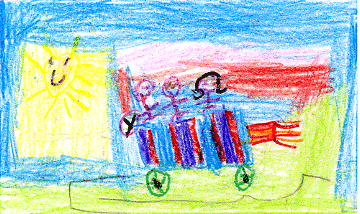 In this book, a family wants to go to the lake because they are so hot. Their truck didn't work very well, but they still wanted to try to get to the lake. They packed marshmellows, the baby's toys, a beach ball, a surfboard, and juice. On their way, they got a squished tire, and they didn't know what to do, but then they got an idea. They put marshmellow and the beach ball together to make a tire. Then they had all kinds of things fall off the truck and it scared ducks away by the road. They kept on fixing the truck though with all kinds of funny things. They made it to the beach and had fun, and then they went home.
I loved this book because they finally got to go swimming in the end. My favorite part of the book is all of the funny things they took with them and how they used them to fix the truck. I don't know how they thought of all that! I felt happy when I heard the story because of the pretty pictures and funny words. The pictures remind me of when I color pictures myself.
I think my mommy and daddy, grandpa, grandma, and Angel would like this book because it is so silly and funny. Everyone in my class laughed at this book, so I think kindergarten kids will like this book.
(dictated by Jessica M.)