The Salamander Room
Written by Anne Mazer & Steve Johnson
Illustrated by Lou Fancher
Reviewed by Suzi W. (age 11)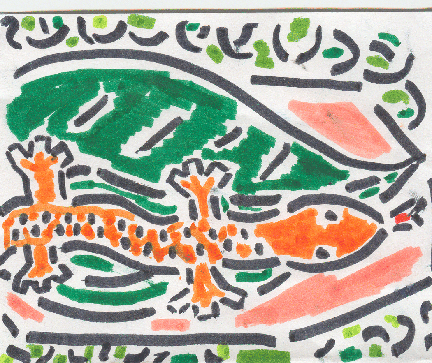 The Salamander Room is book about a boy who goes hiking in the woods and finds a salamander. He decides to keep the salamander. When he gets home, his mom asks him questions about what he is going to do to keep the salamander comfortable in their home. The boy describes how he will comfort the lizard so that the lizard will feel more at home.
I really liked this book because as I read it I made pictures in my head of the boy's room as it changed after his mom would ask him different questions. It was fun to imagine how the boy's room changed from a bedroom into comfortable place for the salamander.
The boy in this story is like me because I am able to imagine what my room would be like if I were to bring home a pet. Just like the boy, I can picture my walls as a forest of trees and a little stream running by my bed.
This story reminds me of "Where the Wild Things Are" because in that story Max imagines that his room changes into a forest, like the boy in the Salamander Room does. Max has an adventure in his story though, where in this story, the boy is just imagining what his room should be like.
I think that the boy and his mother have great ideas for what a salamander should have, but I don't think it would be that difficult to prepare to have one! Still it would be fun to change my room into the perfect home for a salamander!
I would definitely recommend this book to anyone who likes to imagine while they read. Even if they see the illustrations, they can still think about how the room could look based on the boy's descriptions. I would recommend this book to be read aloud so that the person listening can form pictures in their head.