El gran tesoro - The Great Treasure
Written by Gail Donovan
Illustrated by David Austin
Reviewed by Jazmin G. (age 9)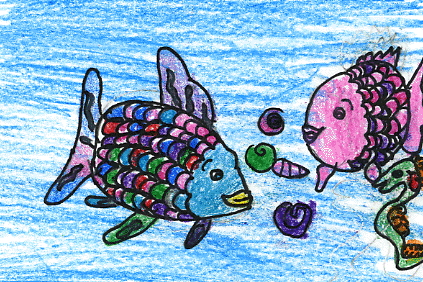 This book is about the Rainbow fish and his classmates. One day the teacher asked them to bring a treasure and share it with the class. The following day, everyone brought their treasure and shared it. At the end, the Rainbow fish and his classmates learned a very important lesson. They learned that a treasure is not something that costs a lot of money, but it is something that means a lot to you.
I really enjoyed reading this book, because I learned that a treasure is anything that is valuable to you. It could be anything from your baby blanket to a picture of your family. I also liked this book because it has a lot of colorful pictures. My favorite character is the little fish named Rizo, because he is very smart and funny,
I recommend this book because you will enjoy the bright pictures and it will help you value the things that you have. All the kids in the world should read this book.
This review was translated from Spanish.