Franklin in the Dark
Written by Paulette Bourgeois
Illustrated by Brenda Clark
Reviewed by Julia F. (age 7)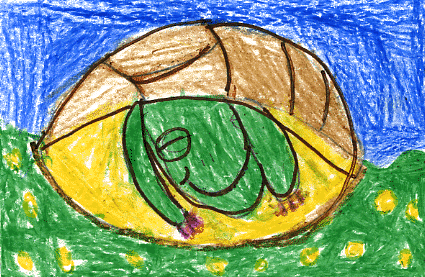 Franklin is afraid of dark places. This is a problem because he is a turtle. He is afraid of crawling into his shell to go to bed. He goes on a walk and meets animal friends. He listens to their stories about when they were afraid. He soon finds out that everyone is afraid of something. Franklin goes home. Will he be able to sleep in his shell tonight?
I liked this book because it has a happy ending. He did not want to go inside his shell because it was scary. In the end he finds a way to not be scared. My favorite part is when his mother shines a flashlight into his shell to show him there is nothing to be afraid of. This story reminds me of when I did not want to go to bed because I was afraid of the dark.
If you like the Franklin television show and other Franklin books I would recommend this book to you. You would like this book if you would like to see how you can solve the problem of being afraid of the dark.