Harry the Dirty Dog
Written by Gene Zion
Illustrated by Margaret Bloy Graham
Reviewed by Sophia L. (age 8)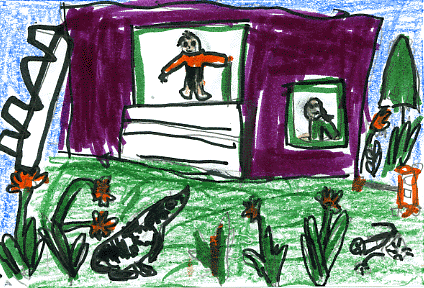 Harry is a dog that likes everything except getting a bath. He took the scrubbing brush and ran away. While he was gone, he played where the workers were fixing and got dirty. He played in the railroad and got dirtier. He played with other dogs and got dirtier. Then he slid down a chute and got very dirty and changed from a white dog with black spots to a black dog with white spots. At the end, he goes home but his family doesn't recognize him. Well, you just have to read the story to find out how it ends...
I liked this book because the dog was cute. My favorite part of the story was when the dog got dirty because it looked fun. My favorite character was Harry. I liked Harry because he got very dirty and was funny.
I would recommend this book because I liked the pictures. If you like all kinds of books, you would like this book!