Fluffy's 100th Day at School
Written by Kate McMullan
Illustrated by Mavis Smith
Reviewed by Olivia P. (age 8)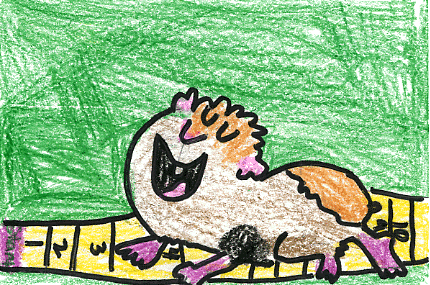 Fluffy is a class pet (guinea pig) that doesn't like parties. The class is having a party for the 100th day of school and decides to invite all the guinea pigs. Fluffy's friends come over to his cage. He doesn't like that. He's thinking parties are dumb. There is a race and Fluffy's friends trip and hurt themselves. Fluffy wins. The class does lots of 100th day activities and there's a mystery at the end.
I liked the book because it was silly and the silly part was that one of the guinea pigs didn't like parties. My favorite part was when they had a race. Almost all of the guinea pigs hurt themselves. My favorite character was Fluffy. He was one of the guinea pigs and he was so cute. The characters reminded me of mice.
I would recommend this book to other kids that are in first or second grade because the pictures are really good. They look like kids' drawings. I think that when you read it you are going to like it.