Captain Underpants and the Invasion of the Incredibly Naughty Cafeteria Ladies From Outer Space
Written by Dav Pilkey
Illustrated by Dav Pilkey
Reviewed by Leonardo M. (age 10)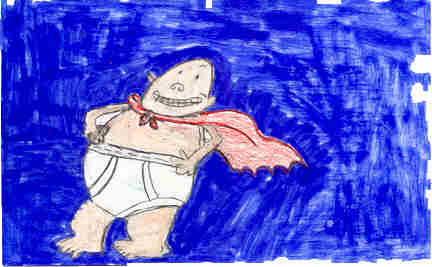 This book is mostly about a super hero named Mr.Krupp who has super powers and fights crime wearing only underwear and a cape. There are two boys named George and Harold they both make comic books. Mr. Krupp hates the comics. Later on the naughty cafeteria ladies came to the school. Read the book and see what happens.
I liked this book because it was so funny when Harold and George changed the sign that said ?new tasty cheese and lentil pot pies? to ?nasty toilet pee pee sandwiches?. I loved the main characters because they always made me laugh. The comic strip parts of the book are fun to read as well. They are very well drawn.
I recommend this book to all kids ages 7-12 because it is not for mature people. And to all adults, I think they would not like it because they would think it is for kids only.