Zoom Broom
Written by Margie Palatini
Illustrated by Howard Fine
Reviewed by Austin C. (age 7)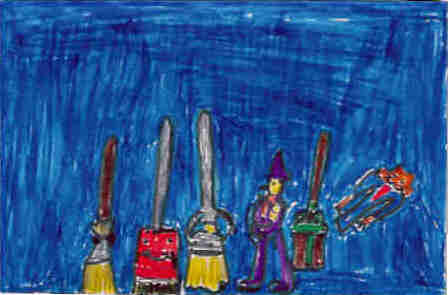 This book is about Gritch, the witch, going to get rabbits for rabbit rye pie. But when Gritch got in the air with her broom, Gritch could not get the broom in control. It was stuck. So Gritch crashed into the ground. Gritch went to Foxy?s to get a new broom. Read this book to find out if Gritch gets a broom that zooms.
I think the book is funny because Gritch says to Foxy, ?Which one should I get?? and Foxy says, ?Witch One.? Then Gritch says, ?That?s what I am asking you, which one?? This book is like other books by Margie Palatini because Gritch, the witch, is in two of her stories, Piggy Pie and Zoom Broom. Margie Palatini?s books remind me of other fairytales because she puts fairytale ideas into her stories, like the pumpkin from Cinderella and the magic carpet from Aladin.
I recommend this book for all ages. Everyone will laugh and enjoy the fairytale things that Margie Palatini used.