Danger Guys
Written by Tony Abbott
Illustrated by Joanne Scribner
Reviewed by Jancarlos P. (age 10)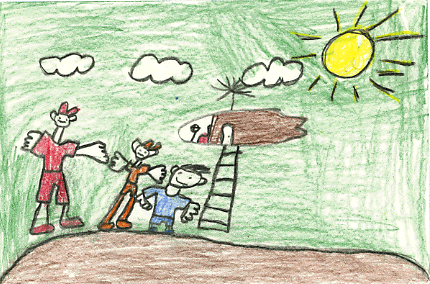 This book is about two little boys named Noodle and Zeek. They loved to learn about science and go on adventures. One adventure took them into a cave where they found bats and bones. They also found footprints!
My favorite part of this book is when the boys got saved. It was interesting to read about how the rescuers saved them in a helicopter. It was my favorite part because if I went on an adventure and went into a cave, I would be scared and try to find away out also. The character I liked the most was Zeek because he is funny. I also liked him because he likes science and I like science too. There aren't many picture in this book, but my favorite picture is the one that shows the hero coming to save the boys in a helicopter.
I recommend this book to those children who always wanted to go into a cave. Also to children who like to learn about science and children who like looking at interesting things.