The Sleeping Giant of Goll
Written by Tony Abbott
Reviewed by Ada S. (age 10)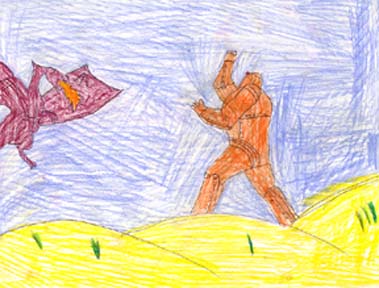 The Sleeping Giant is about three kids named Neal, Eric and Julie. They find a magic staircase, and they discover the secret way to the land of Droon! They meet new friends, Keeah, Galen, Max, King Batamogie, and the purple lumpies, the evil wizard, Lord Spar, his soldiers, the Nins, their pets, and groogles. Well, its so exiting and interesting that you just have to read it!!! When my mom bought the book I thought it would be boring, but when I read it, I loved it! There are many series of The Secrets of Droon, and I want to read them all!
The book is great, because you really feel like you?re in the book. I like the magic stuff in the book. I really loved it. My favorite part was when the dragon and giant were fighting. My favorite character is Neal because he?s so funny and cool. Neal changed because, well??????.he turned into a bug, but he will turn back into a human, don?t worry. The illustrations are black and white, which is why I love them. This book made me feel magical.
I would recommend this book to a friend, because it?s a great book and people that like magic will like it. People who like any fiction should also read it. I look this book!!!