In the Hand of the Goddess
Written by Tamora Pierce
Illustrated by Joyce Patti
Reviewed by Lidia H. (age 10)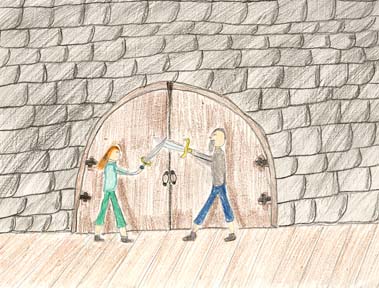 In the Hand of the Goddess is the second book of the quartet Song of the Lioness. This book is about a girl, Alanna of Trebond, a duke?s daughter who disguised herself as a boy to train so she could become a knight. Her name as a boy is Alan. In this book Alanna finds a new friend, a cat given to her by the Goddess herself, along with another gift. This gift is much more useful than a cat. Alanna receives an ember stone from the Goddess, which has a great power, but I am not going to reveal it to you. In this book Alanna finds love, goes to war, survives the Ordeal, and wins her shield. She also has to fight her nemesis in combat. Will she win or, will she not? This book takes place in Medieval Times when people were gifted with magic. Alana is one of them. I love this book!
I think this is a very interesting book, because it shows that girls can do tough things, not just boys. It also shows that girls are tough. I simply adore this book, because it is completely action filled. I had many favorite parts and one of them was when Alanna was in combat with Roger, her enemy. It was my favorite part, because it?s at the end and I love endings. I liked all the characters, but my favorite character was George Cooper of Pirates Swoop. I like his sense of humor and clever personality. Prince Jonathan, whose squire is Alanna, became a little more serious than the first book. The cover illustration is very good and it shows Alanna with her cat , Faithful, around her neck and her horse , Moonlight , in the trees. I think she is coming out of the Ordeal. She wears her emberstone. This book is unique and special, because a lot of books aren?t about heroines. This is not like any book I have ever read, because I have never read a book about medieval times with a girl knight. I have not read any other books by this author, but I know this author writes about heroines. This book is part of a series. It is very similar to its sequel. While I was reading the book I felt calm and then where there was an exciting bit I grew really tense wondering what will happen next. This book made me think about what I would do if I was in Alana?s shoes.
I recommend this book, because it is exciting, funny, and romantic. The kind of audience who would enjoy this book would be girls who like sword fighting and magic.