Flipped
Written by Wendelin Van Draanen
Reviewed by Rachael M. (age 10)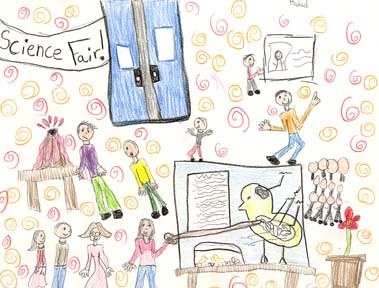 This story is about two different people (not related) talking about the same event. They tell their sides. It?s sort of like a diary but with two people. There are a couple of lessons. One is that you should look beyond someone?s cover. You?ll have to read the book for more. The main characters are Bryce Loski and Julianna Baker. The story starts in 2nd Grade and ends in 8th Grade. I enjoyed this book.
I liked this book. I liked it, because it had very good descriptions. My favorite part was at the science fair and when Julianna studies chicks. I liked it, because I think chicks are cute and all of them survived. I like Julianna. She is smart, and nice. The only illustration is on the cover. It is a picture of a chick. That chick isn?t very cute. No, nothing is special about this book. I haven?t read any book like this before. I also haven?t read any other books by the author. This book is not in a series, although it would be nice if it were. I felt as though the book was a movie playing in front of me. I just didn?t know how the characters looked. The book is like two people are in the world?s shoes because they are just like regular people. I do not have a life like them but some people do. The book makes me wonder what would happen if the book went on.
I recommend this book to people who like reality books and a little bit of romance. I recommend this book, because it is fun-filled and has a wheel of suspense. I love it and I bet you will too. You don?t want to stop reading!