Because of Winn Dixie
Written by Kate DiCamillo
Reviewed by Brittany B. (age 10)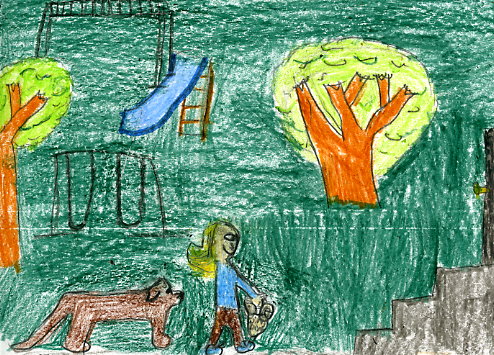 "Somebody grab that dog!" screamed the manager.
"Somebody grab this book!" exclaimed me.
Winn-Dixie is about a unique and special girl named India Opal Buloni. She goes to a store for groceries and comes home with a ragged, old dog. For the rest of the story, Opal and Winn-Dixie go to lots of places and experience good times and bad times.
I think the story is about Winn-Dixie helping Opal with life. One time when Opal and Winn-Dixie went to the library, Mrs. Franny gave Opal Littmus Lozenges. Opal suddenly felt sad because she thought about her mom. Her mom went away when Opal was born. Winn Dixie cheers her up. In the book Opal learns to relate to people, who she at first does not like. Their names are Amanda, Dunlap, and Stevie. Amanda has an attitude. Dunlap has a crush on Opal, and Stevie annoys her. Sometimes there are kids in my class that are hard to get along with, but I try to be nice and help them when needed. This book is not like other books I have read, at least so far, because the book has a log of problems to solve. This story is lifelike because it is like stories in a writer's notebook.
To find out more about the many adventures of Winn Dixie and Opal, read this can't-put-me-down book. I highly recommend it to anyone who enjoys reading and being read to. Be ready to discover the answers to: How does Opal learn to get along with Amanda, Dunlap, and Stevie? Will Winn-Dixie and Opal always be together? How will Opal help Winn Dixie get over his fear of thunderstorms?