Egg Monster From Mars
Written by R. L. Stine
Illustrated by T. Jacobs
Reviewed by Ryan B. (age 8)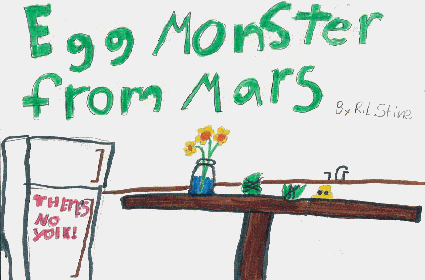 The book Egg Monster from Mars by R. L Stine is a good book about a boy named Dana and an egg he finds. I learned something from this book and it is do not trust any type of stranger. The boy named Dana finds an egg. Then it hatches, but into what? Then Dana takes it to a lab, but he does not come back. But why not? I will leave you to find that out.
I like the book because it is neat and scary. I like the part where the egg creatures formed a blanket. My favorite character is Dana's little egg creature because it is cute. If you read the book you might feel eager to find out what will happen next. You might feel a little scared and surprised.
If you are eight years or older and you like scary books where people do not die then Egg Monster from Mars is your kind of book.